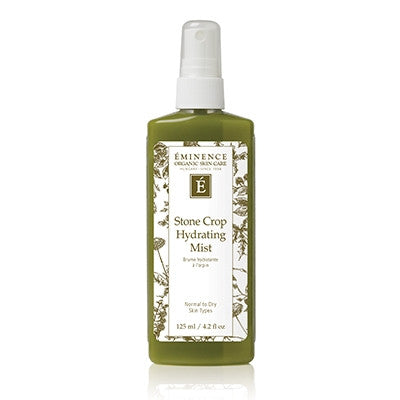 Stone Crop Hydrating Mist
Regular price $39.00 Sale
Eminence Stone Crop Hydrating Mist repairs and revitalizes to deliver a youthful complexion. Formulated with stone crop juice, it hydrates and heals as it diminishes the appearance of hyperpigmentation for clear and even-toned skin. Salicylic acid gently removes dirt, impurities and bacteria while mineral-rich spring water softens and conditions, creating a radiant look and a supple feel.
Eminence Stone Crop Hydrating Mist is a hydrating and soothing toner for all skin types. Refresh your skin with the succulent and healing properties of stone crop. Heal irritation, sun damage and reduce pigmentation. Use as part of a daily maintenance routine and in combination with Sun Defense Minerals to hydrate and moisturize the skin.
Skin Type: All types, including sensitive, pigmented and sun damaged skin.
Key Ingredients
Stone Crop Juice: hydrating and nourishing for uneven skin tones
Aloe: hydrates and softens the skin
Bearberry: brightens and is rich in antioxidants